Hits: 4213
The Beginning…
The story started with this car…the one that I saw in a coffee shop of where I lived. The car was parked with nose facing inwards, so I only saw the back of the car for the first time. I was driving pass it, but immediately it grabbed my attention with the classic look and a VOLVO name tag! A VOLVO? I didn't know Volvo makes such a nice classic car with those curves! As I was on my way to my shop, I don't have time to stop by. Less than an hour later, when I return to the coffee shop…the car was gone. What a miss I told myself in heart…should have stopped by and asked the owner if he wanted to sell or not, I whispered in my heart…
One day when I was visiting my apartment in Cinta Ayu, Pulai Springs, very surprised I saw the same Volvo parked there in the car park! WOW I told myself! That was 5th Dec 2020! The car was parked next to the car park lift entrance, hence I was able to spot it. I saw not just one but TWO very nice pearl white classic Volvo there! Must be under the same owner I told myself. First time looking at it from the front and side, what a beauty I told myself. It is like a James Bond movie car, a Ferrari, Aston Martin kind of shape. I didn't know what model it is by then, and just love it because of the shape! Later did I know that it is indeed a car driven by the James Bond actor, but the car was starred in another movie called "The Saint", and the actor Roger Moore owned the car himself and drove the car in the movie in real!
The car is Volvo P1800 (earlier Jensen model, made in England 1961-1963), or 1800S (S for Sweden), or 1800E (Fuel injection type). This particular model should be either P1800 Jensen or 1800S. Bull horn belongs to the Jensen model, but there is a 1800S badge at the rear. Either one, both are gorgeous! 1800E has the fuel inlet relocated to the side of the car (to avoid water entering into the fuel tank due to blockage on the drainage on the top fue
Photos taken on 5th Dec 2020
Below photo is taken by another member in FB klasik car group, really nice to have the two cars parked side by side!
Fast forward to July 2021. Hands are itchy and thinking of something to buy. I was crazy about Harley Davidson Fatboy, RM120k+, but I don't have a B license to drive a big cc bike, and honestly I am not so confident with bike riding. Car is better, but all cars drop in value quite tremendously after some time. My Peugeot RCZ was RM220k+ is only worth RM60k+ now after 10 years. My father wanted a Mercedes S400, and I was dreaming about it too! New was RM600k, and those 2015 model is less than RM200k while 2016/17 models are less than RM300k. That's a crazy drop in price.
Then I started thinking of the classic Volvo that I saw before. What model was it? Volvo P1800. I tried google online if anybody is selling. Saw 1 in Mudah.my website, but not cheap at RM150k. Forget about it I said to myself, I can get a brand new Harley at that price. Kept searching and none available. This car seems not so easy to find. I then found UK and USA websites selling this car…wow…not cheap! The good thing about those oversea auction or sellers is that they took stunning photos of their car! Some even posted video review of the car. So I can view in detail and admire the design.
The more I read, the more I got poisoned. Since I can't get to buy one, I went back to Cinta Ayu on 22nd July to SEE the car again. This time the owner parked it in a big open space car park. So I can take photos of it without obstacles. What a beautiful car and the paint is pearl white, stunning shine colour!
Later of the day I contacted a friend, Celine, who is a member of Cinta Ayu management. She knew the owner, I asked her to help me pass a message to the owner if the car is for sale or if I can view the car. She helped, but no reply from the owner. What a disappointment…but is OK, I will find the car myself elsewhere!
Photos taken on 22nd July 2021
Fast forward now to 13th Aug 2021, after googling so much info online, I decided to start collecting the info I could on this car and compile them into my blog. So that I can refer to each unit that I found easily.
The History…
The car got famous back in the 60s due to the movie "The Saint", where the same actor Roger Moore also played in James Bone movie. The car got popular again recently due to the stylish design and Volvo brand name revive. Volvo is doing great in the recent years after being bought over by Chinese company Geely, who also bought 49% share in Malaysia national car company Proton.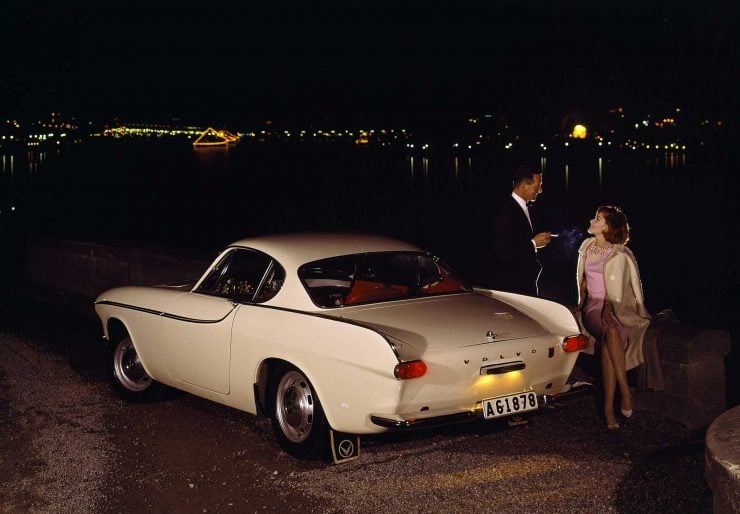 Adverts from the 60s.
Specifications
| | |
| --- | --- |
| Specification | Volvo 1800S |
| Engine Location | Front, in-line |
| Configuration | Four-cylinder |
| Capacity | 1780cc |
| Valve Operation | Pushrod |
| Horsepower | 108bhp @ 5500rpm |
| Transmission | Manual Four-speed with over drive |
| Drive | Rear |
| Suspension – Front | Wishbones and coil spring |
| Suspension – Rear | Radius rods and coil spring |
| Brakes | Front disc, rear drum |
| Top speed | 105mph |
| Acceleration | 0-60mph 12.5 seconds |
| Wheelbase | 2,450 mm (96.5 in) |
| Length | 4,350–4,400 mm (171.3–173.2 in) |
| Width | 1,700 mm (66.9 in) |
| Height | 1,280–1,285 mm (50.4–50.6 in) |
| Curb weight | 1,130–1,175 kg (2,491–2,590 lb) |
100 brake horse power, not too shabby. 0-60mph is 12.5s, definitely not in the race car category. Weight at around 1.175 tonnes, it is not a too heavy car.
Just don't try to race with any current modern SEDAN car in a traffic light stop, as most cars are now below 10s in acceleration 0-60mph. Don't even think about winning a race with MYVI!
This car is meant to be a head turner, so let's be slow and give others the chance and time to admire…
The Search has Started!
Below are the photos and colours of various Volvo P1800 that I found in the internet that bare the Malaysia car plate numbers.
WCH 7463
BM 2680
JAD 8695
BAL 4445
KM 393Q
BR 3807
BBT 242
NS 707
KQ9897Q
KY 32
BQ10
EK627
I am sure there are many others, but these are what I found so far.
Below is what I found for sale, but sold.
1) 1963 Volvo P1800 1.8, October 05, 2017 (I thought has been sold, but later found out that this car is still under Rainbird company and still for sale at RM165k)
2) 1966 Volvo P1800 1.8, Immaculate Perfect running condition. Careful Datuk Owner Collector. Roadtax valid and grant transferable. Highly Negotiable upon viewing for serious buyers. View by appointment at Bangsar or Taman Seputeh only. Sold in July 2021. I msged the seller, he said sold at RM125000. He has owned the car for nearly 15 years, done the restoration in Thailand. Missed this deal…heart pain…
Update 23 Aug 2021: The interior design seems too modern to my taste now after seeing so many nice P1800 photos.
3) Kelab Volvo Klasik Malaysia (KVKM) October 30, 2020
This one is sold. The owner actually contacted me via FB. He said the owner is an Australian. Condition looks really good! Lucky buy! Love the classic seat belt design. Going to find that for my car if I were to buy one!
VOLVO P1800 For Sale!
Hands down one of the best P1800 around, immaculate condition, well taken care off and well maintained.
Just buy and drive!
Asking price: RM 150,000
Viewing: By Appointment
4) From FB Kelab Volvo Klasik Malaysia (KVKM) on Oct 2019, SOLD.
VOLVO P1800 FOR SALE:
RM 135,000
Contact: +60 11 1361 0111 (Rukshan)
My observations: From the bumper design, it should be post 1965 model. Wheel is not original. Missing the chrome bar on the side panel. Chrome seems to have oxidize badly.
Update 22nd Aug 2021
Saw an owner posted his P1800 sold in 2020.
https://www.facebook.com/groups/2967413999971059/permalink/4273632162682563/
Found another two units for sale as of today.
This white one looks like an unfinished project. I can even see some screws missing on the engine block. The interior are missing some parts as well (windows winder). Definitely a no no.
This company Rainbird has the unit for many years. Advert in Mudah.my below was posted on 2nd Oct 2016.
A Green KY 32 for Sale
This green version is really nice, except the bullet side mirror which I don't really like. There are two extra reverse lights at the back too, which I don't find on other models that I have seen. I suspect those are later add on by the UK owner. It makes the car too busy with the extra things. Also, the antenna?
However, the good thing about this car is the originality of it from year 1962. The owner said he imported it from UK directly. There are photos of the car in the internet with same plate number in white colour and I also found the registration cert of the car in Facebook. The car was registered on 05 Aug 2015 in Malaysia.
The two tones colour design is really different. The green is much better than the white above in two tones.
09 Aug 2021: I just talked to the seller this morning over a phone conversation. Some problems with the car: RPM meter/gauge is faulty. So won't be able to see the RPM reading. Not sure can repair or not or will have to get a new one. Seller said the bottom part near the absorber arm is rusty. I am a bit worried with that…as he said he did not repair that as worried of thinning it too much and not strong enough to hold. He did however changed new absorbers for the car, repainted 4 years ago, engine oil overhaul, gearbox oil leak repaired.
Someone shared an ADVERT of the car for sale in FB marketplace for RM220k on 14th July 2020 for RM220k.
Found a video of this KY32 online in 2020 walk through. Can see the interior much better in the video, as there is no photo of the interior from the seller.
Going to KL to view the car is out of the question now…buying without seeing in person is a crazy idea for USED car. Can't trust people too easily with such a big sum of money.
So…the search continue…or should I say…the dream continue…!